This Post May Contain Affiliate Links. Please Read Our Disclosure Policy here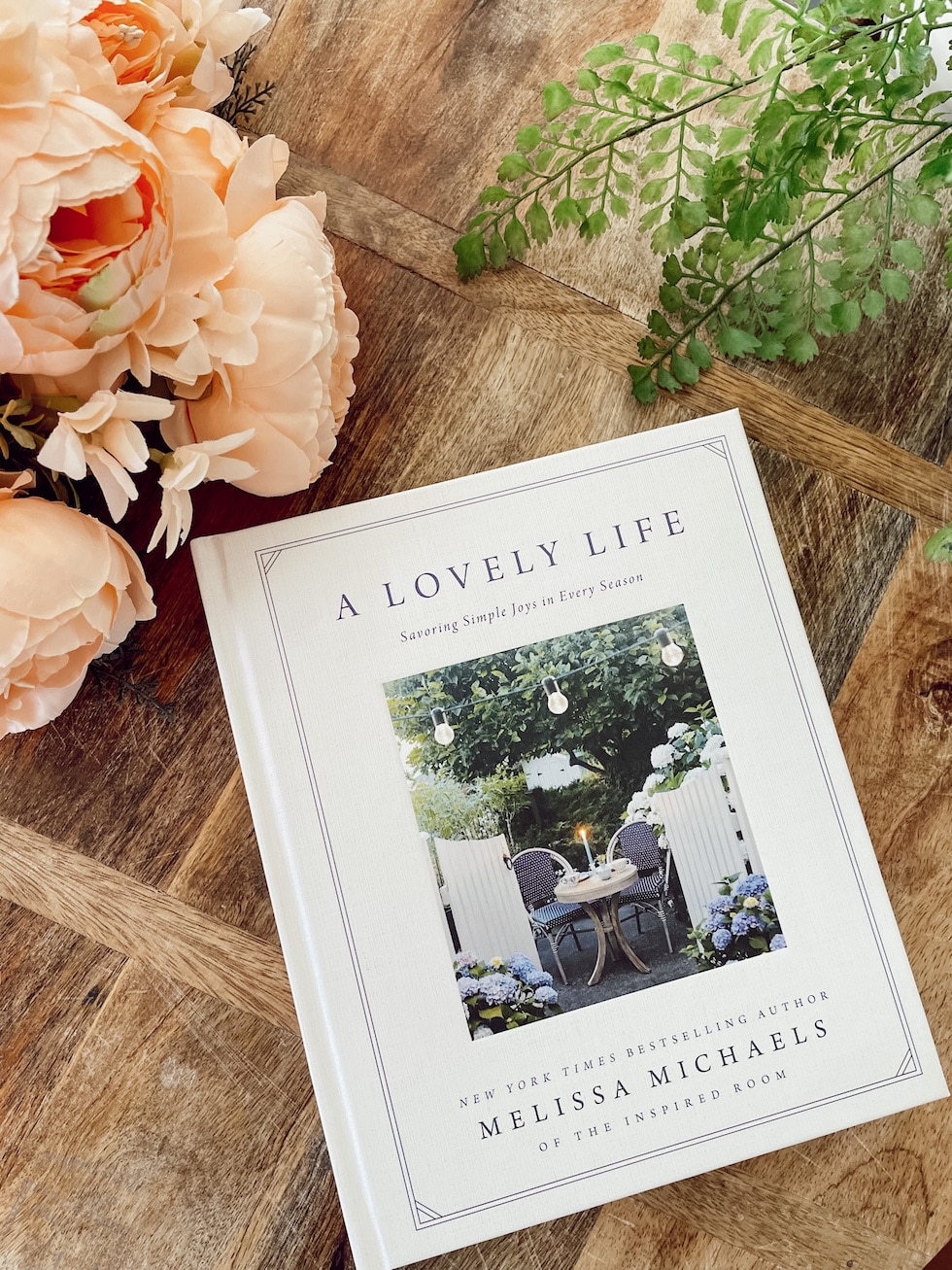 Over the past few years, I've written eleven books on creating a home. Home is near and dear to my heart! It has been a joy for me to have the opportunity to design books, products and resources that will inspire an atmosphere where you can nurture yourself and those you love.
Whether you are ready to prioritize your well-being and contentment with your life, home and what you have, need to tackle decluttering and organization projects, want to develop both a healthy mindset and action steps to design a home and life you love, or want inspiration to decorate or to gather friends and family in your home, you'll find I've written a book just for you!
I'm thrilled to introduce to you the newest addition to my collection of books, A Lovely Life.
If you pre-order this book by May 5, you'll receive lovely (and free!) pre-order bonuses as well! (A Lovely Life Planner and botanical art prints!). Find details and get your freebies here.
---
What is this new book, A Lovely Life, about?
A Lovely Life is so much more than just a pretty book to decorate your coffee table (although it is that, too!).
This book is filled with inspiration and practical ideas to savor the simple joys around you and in your home. It offers gentle encouragement throughout to focus on being intentional with your days, ideas, tasks, and mindsets as you seek, create and savor the beauty found in every season.
Whether you experience four natural seasons where you live or not, you'll be inspired to embrace your own rhythms and creativity at home with a seasonal mindset throughout the year.
A Lovely Life will show you ways you can:
Practice simple home making and soul tending rhythms and rituals
Cultivate more peace, contentment, and joy in your surroundings throughout the year
Embrace simplicity in your life and home in every season
Nurture your well-being through the beauty you create or discover around you
Seek renewal in spring, refreshment in summer, reconnection in autumn, and rest in winter
A Lovely Life is organized by season so you will be able to:
Feel a sense of balance throughout the year
Focus on what matters most to you in your current season
Celebrate the beauty and gifts of each season (no matter the time of year or where you live)
Embrace the peace found in a seasonal rhythm/mindset/approach
Feel more present every day as you prioritize and celebrate each season
A Lovely Life is about creating the kind of atmosphere at home you've always dreamed about, one day, one season at a time. You'll feel inspired to elevate even the most ordinary moments at home and discover tangible ways to make every day a better one….all year long.
This full color book is full of beautiful photos and tangible tips to guide you as you create a life you love and home you love to live in.
As you explore the beauty of each season at home, you'll find:
Ways to create an atmosphere that will help you feel present and at peace
Helpful ideas to make your home a sanctuary and a comfortable haven in the world
Inspiration to create a more joy-filled home
Ways to incorporate design elements that can nurture you in every season
How to decorate your home so it reflects your family and who you are
Motivation to create spaces that can serve you and your family better
Encouragement to take care of your home so it takes care of you, too.
Opportunities to savor all of your senses in ways that will transform the feeling of your home
Practical and enjoyable tasks you can implement in each season without overwhelm!
Simple homemaking practices that will inspire you to clean, tidy and organize your way through your home one season at a time.
Throughout the book, you'll learn ways to:
Be present in the beauty of each day and season
Feel less frazzled, more mindful and offer yourself grace
Create and savor meaningful and memorable moments
Practice rhythms that will nurture you in each season
Feel a sense of gratitude for the simple pleasures and what you already have
Prioritize what (and who) matters most to you
Create an atmosphere at home that will inspire you to feel your best
As you read A Lovely Life, you'll feel:
Inspired to create simple but lovely nourishing moments
Prepared to elevate everyday tasks and doable activities so they feel more special and meaningful
More intentional in finding and savoring the beauty of the season you're in
Empowered to try new things as you create a life you love one season at a time
Ready to romanticize your daily tasks and seasonal rituals so you'll experience more delight in the ordinary
Through the focus on each season in the book, you'll discover:
How to embrace rhythms that nourish you
Simple ways to experience more joy and peace even in difficult times
Verses that will inspire your life or encourage your faith
Ways to find a comfortable sense of balance, ebb and flow through the year and each season
Mindful opportunities to be more present and grateful for what you have
A simple plan to focus and be deliberate with your efforts so you'll feel less scattered and overwhelmed every day
Opportunities to make every season more meaningful
As you look through the seasons, you'll find simple ways to:
Slow down, simplify and make the most of each season
Experience refreshing time in nature
Make DIY spa-inspired seasonal scrubs and room sprays
Soak in the benefits of plant therapy, gardens and backyard retreats
Strengthen a different aspect of your well-being in each season
Create more margins and breathing room in your home and life
You'll find simple ideas and opportunities to show love to others, such as:
Acts of kindness
Becoming more hospitable
Creating an inviting and welcoming home
Making intentional and meaningful seasonal memories with people you love
Prioritizing your intentions in each season for the people and moments that matters to you
---
When you pre-order A Lovely Life before May 5, you'll get some FREE GIFTS, too! I created a special downloadable seasonal planner just for you to use as a companion to A Lovely Life, and it is FREE with your pre-order, along with beautiful botanical printable art prints!
Pre-order the book (available wherever you like to buy books or find it HERE on Amazon) and then go HERE to grab your freebies!