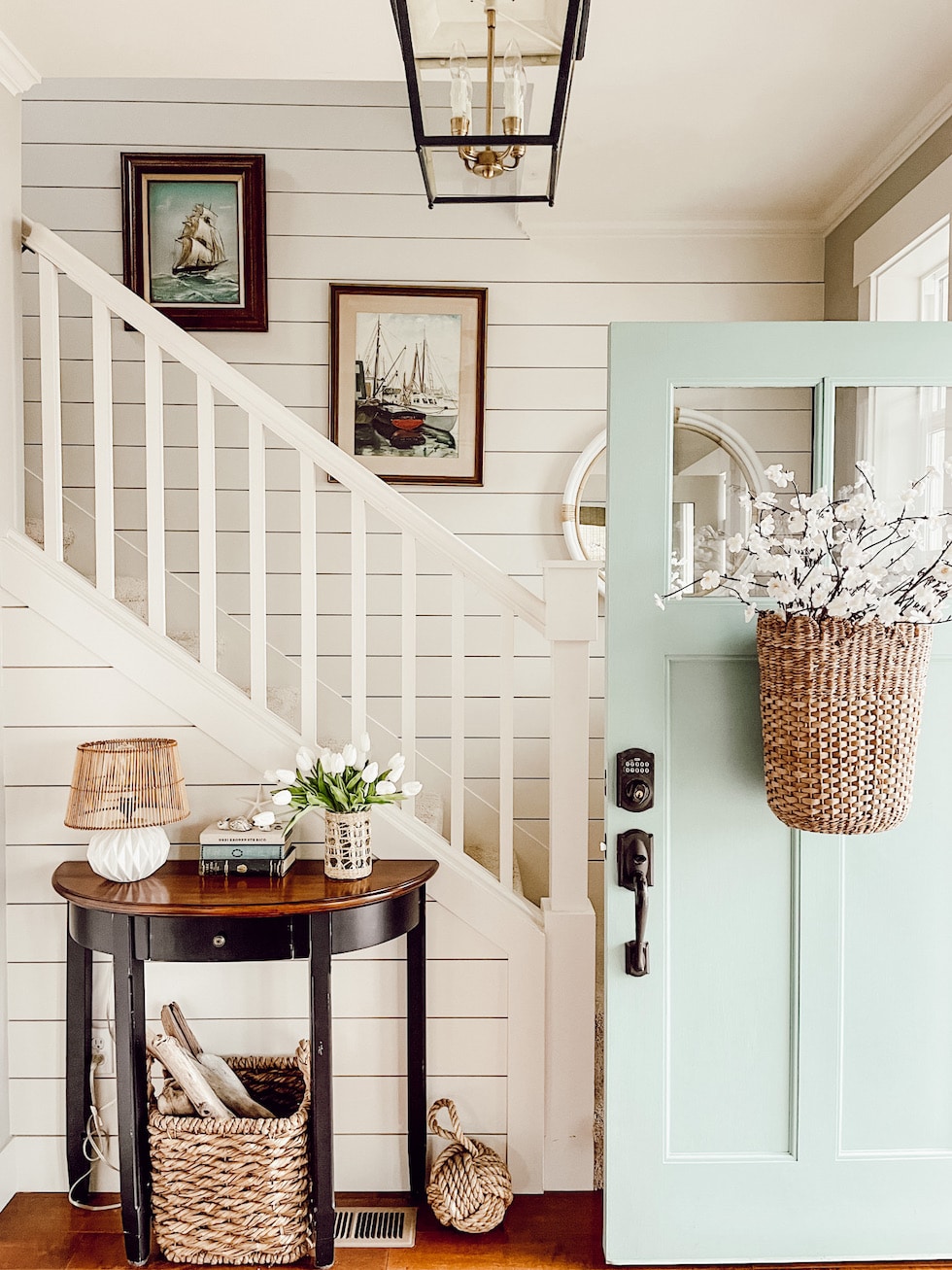 This Post May Contain Affiliate Links. Please Read Our Disclosure Policy here
I had a few moments to myself the other day before we were having family in town. I had taken my winter decor down from our front door awhile ago and hadn't put anything back up. Proud to say that at least there weren't any crunchy evergreen branches or Christmas wreaths to be found (pats self on back).
But since it IS officially spring now and we haven't done any planting of pots outside yet the front door and porch was feeling a little … well, just abandoned, lots of empty pots and a few random things here and there that I still need to deal with. Definitely nothing felt springy enough to welcome us to THIS season, nothing indicate that WE STILL LIVE HERE let alone that we are ready to welcome anyone else here, too.
It just felt like we were stuck "in between" seasons. Or maybe it just looks like we haven't returned yet from wintering in our winter house. Ha, nope, this is our only house so I can't use that excuse!
I decided I wanted to feel for a minute like I was one of those gals who is always on top of things, so of course a gal like that would have a front porch that's all pretty on the first day of spring. But honestly it was kind of rainy that day so I wasn't in the mood to be outside. Ha!
But then I remembered I AM ALREADY TOP OF THINGS BEHIND THE SCENES! I have that scalloped basket I've been wanting to use for spring and I had faux spring branches sitting in my garage (yay for sometimes being a hoarder!). I just put them together and VOILA, instant spring at the front door.
And I can just work on the rest of the porch later, maybe when the sun comes out :).
The basket is large so yes, is possible that some unsuspecting person might not be paying attention and could possibly get a spring branch stuck in their hair as the enter the house. Ha! Or maybe someone will knock it down while they are carrying something in from the car. Maybe someone will poke an eye out, you never know. But would it still be WORTH IT? Yes. Of course, I kid! It's not that risky. 🙂
Given that you have to slow down to deliberately open the door away from you to walk through it, and you can't miss the fact that the basket is there as you approach, it is extremely unlikely to cause any damage. But if you are a worrier or have a smaller door, you might decide you want something in a smaller scale.
Also in case you are wondering, it just hung from a nail on the door, so is easy to move if you want to.
I have to say the size of this basket along with the branches really is the beauty of this arrangement. The basket is kind of a BIG DEAL, which makes it look substantial on our door and is a good scale for our porch. It make a statement and looks striking from the street.
Perhaps when I plant some more pots and work on my porch I'll take a photo to show it to you from afar.
This basket with seasonal branches in it would also look wonderful on a wall, if you have a place for a statement piece. I can't wait to use this basket in different ways and different seasons! But right now, I'm really loving it on the front door. It's making me feel like the kind of gal who is on top of things. I'm (getting) ready for spring and welcoming guests to our new home. It is good to be HOME!
Sources:
Door color: Wythe Blue Benjamin Moore (I believe, very similar if not!)
Ceiling Lantern (multiple colors)
Similar Faux White Spring Flower Stems (and more similar below)
Click thumbnail images below for details on more sources including door baskets, faux flower stems, etc: