This Post May Contain Affiliate Links. Please Read Our Disclosure Policy here
Are you a plant killer? I'll admit, I used to be. While I've learned some tips and tricks along the way for keeping them alive, sometimes you just can't do it. Gratefully there is a secret to plants you can't kill! Artificial plants! They are more realistic than ever and they can be a beautiful addition to your space!
Plants are an essential element in every room (if you ask me). They always make a house feel more "homey" and alive! Real plants are healthy for us and the many of them improve the air of your home.
While I definitely prefer real plants for their health benefits whenever possible, there are certainly times and spaces where faux might be the way to go (even temporarily). Our dog Jack EATS real plants that are anywhere near his mouth, so this is one reason I decided we needed some faux. Maybe you have a space with low light, or a spot you can't reach to water, or you aren't home enough to take care of plants, or you don't have a green thumb and just want a simpler option!
I use a couple of maidenhair fern plants in a tucked away pot where I knew I would forget to water them. I wanted the lushness of greenery there, so instead of dealing with messy dropping leaves of a sensitive plant, or risking the likelihood of Jack eating them or another plant killing episode, I've found I love having a faux plant in that spot. It looks so pretty and fresh and I don't have to baby it at all.
Since we are still getting settled here and planning the remodel, I don't want to deal with buying new plants yet until we are more in a routine and I know where I will put them and what light and care they'll need. For those reasons and many others, you might decide to use a faux plant. Or two. Or three. 🙂 Artificial plants will give you the visual benefits of plants in a room without the fuss!
There are so many great options for faux plants these days–I thought I'd share some that I personally have and love. See them all linked below along with photos of them in my home!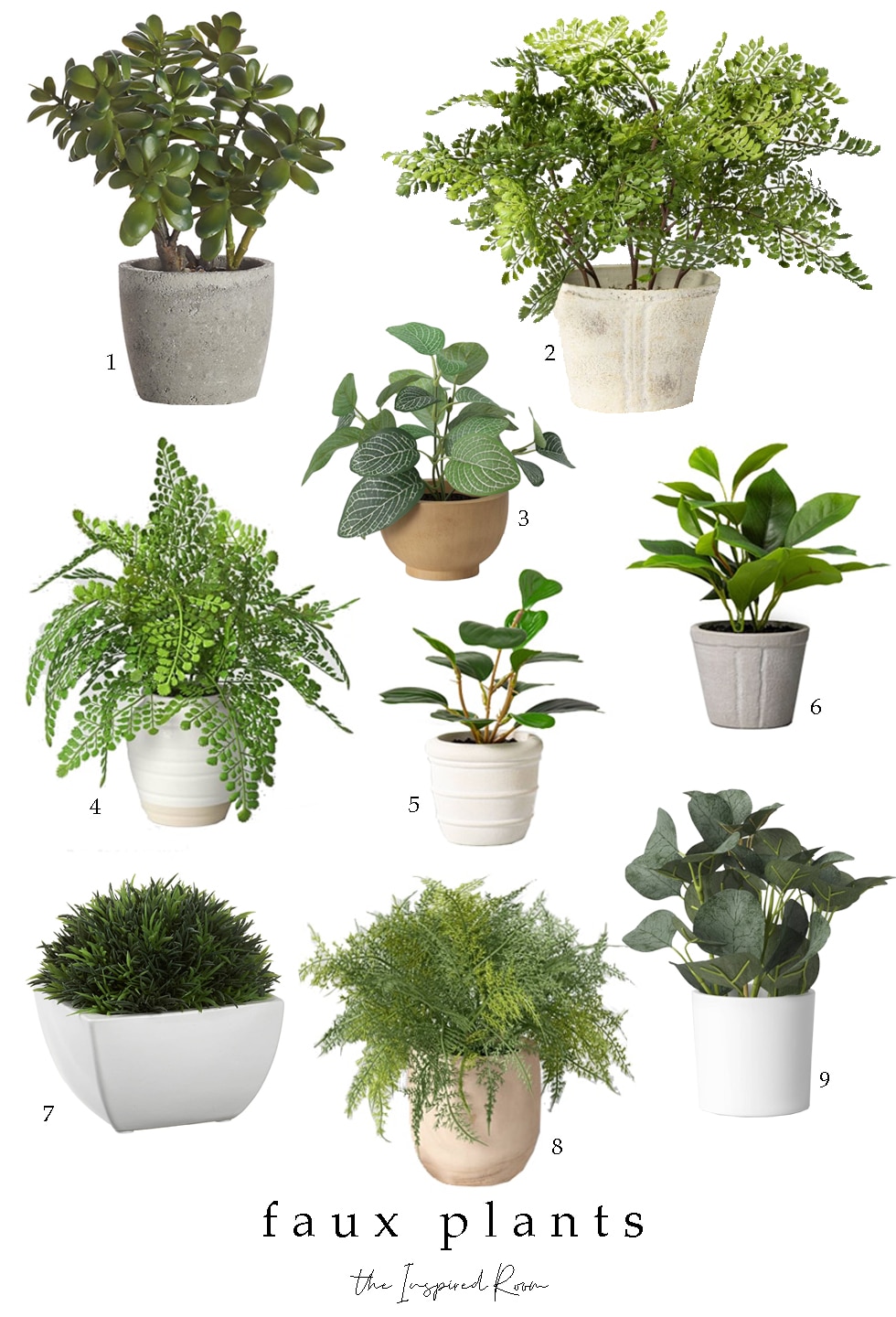 Sources for above (scroll and click images or linksbelow for details):

---
I also had a few artificial plants in my last home, I'll share those below too. You can read more in my post: Designer Decorating Secret: Realistic Faux Plants.
Related Posts:
Realistic Faux/ Artificial Tulips (these look and feel so realistic, I have them in 3 colors!).
One Essential Decor Element You Probably Need More of In Your Home
How to Decorate: The Secret Ingredient Every Room Needs
Inspired By: Greenery and Plants in Decor
Click here for The Inspired Room's Style Tips Gallery with designer advice, tips for finding your style, room mood boards and more!