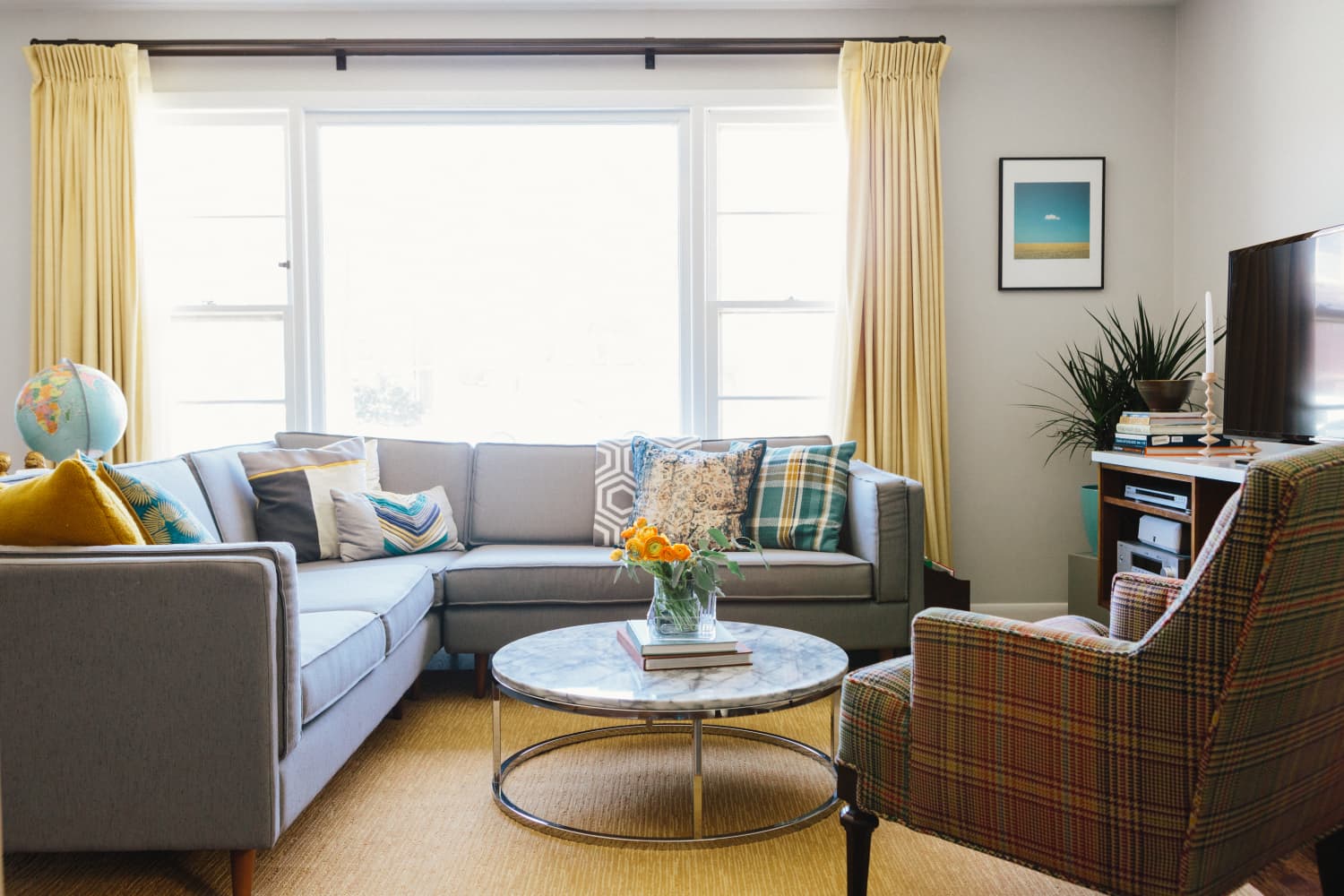 We independently select these products—if you buy from one of our links, we may earn a commission. All prices were accurate at the time of publishing.
Cleaning your home's curtains and drapes may not normally be on your to-do list, but it's something that should be done from time to time. Most people do this job so infrequently they may not know exactly what to do, which is why Cheryl Nelson, lifestyle and preparedness expert, laundry connoisseur, and founder of PrepareWithCher, is offering her advice for getting the job done.
What's the Difference Between Curtains and Drapes?
"Curtains hang just below a window sill and are typically made from lighter fabrics," she says, adding that many curtains are machine washable. Drapes, on the other hand, are typically lined, made from heavy fabric, and may hang down to the floor. "Washing thick, lined fabrics like drapes are best left to a professional dry cleaner," Nelson continues.
How Often Should You Wash Curtains and Drapes?
As for how often you should be washing them, Nelson says the general rule of thumb is to clean your curtains and drapes every three to six months. Some signs that you may need to wash yours include signs of dust, pet hair, odors, stains, and even mold! If you haven't washed your curtains in years, Nelson suggests giving them a sniff and then following these expert tips.
There are a few things you'll want to do before you dive in to ensure that you don't do any damage while cleaning your window treatments. As your first step, "always check the fabric tags prior to laundering," says Nelson, adding that some curtains and drapes can only be dry cleaned. For delicate fabrics, like silk, you'll want to be sure to give them extra TLC, even if they are machine washable. Additionally, you'll want to shake your curtains (preferably outdoors) to remove any dust, dirt, or pet hair that's built up over time.
How to Clean Cotton Curtains
Natural cotton fabric can shrink unless it has been preshrunk and processed before purchasing, according to Nelson. Be sure to check the care instructions. "If you are unsure, always wash in cold water," she continues. When it comes to drying, you'll want to follow those care instructions to a T. "Do not over-dry to prevent shrinkage."
How to Clean Lace Curtains
Lace is beautiful but can be challenging to launder, shares Nelson. These types of drapes do best when washed gently in a sink or bathtub. Nelson recommends mixing water and a tablespoon of gentle liquid detergent. Gently swirl the water around the lace curtains. Then, rinse in cold water after removing. Air dry to preserve the shape and texture.
How to Clean Silk Curtains
Silk can be washed in the washer when indicated by the label, but Nelson says you'll want to be mindful of silk curtains with embroideries that can shrink and tighten when washed or color bleeding. "It's best to wash silk curtains with baby shampoo and cold water," she says. "After washing, roll the silk in a towel to soak up any excess water and then hang them to air dry."
How to Clean Linen Curtains
Like cotton, Nelson says linen tends to shrink when submerged in hot water. "Hot water can also weaken the fibers," she explains. Unfortunately, cold water won't exactly do the trick either, since it doesn't remove all of the dirt and oils from the drapes.
"The key is to wash linens in lukewarm water," she says, adding that you'll have to be extra careful about separating these types of fabrics by color — you should never mix white linens in with colored linens — and you'll want to avoid the dryer altogether. Instead, Nelson says you'll need to lay these flat to dry after you're done washing them.
Troubleshooting Common Problems
If you've noticed your curtains looking a little worse for the wear after washing, you may want to try Nelson's go-to hack for getting drapes looking new again: steaming them while they're hanging back on the curtain rod.
Of course, there may be some messes that you just can't tackle on your own, which is when Nelson says it's okay to call in the pros. "If your curtains/drapes have stains, water spots, or mold, take them to your local dry cleaning professional," she suggests.
Keep Your Curtains Clean Between Washing
With all those steps to follow it makes sense that you'd want to avoid having to wash your curtains and drapes any more than you need to, which is why Nelson says you should do some light cleaning in between washes. "Shake out the curtains once a week to release dust and pet hair, and vacuum your home at least weekly," she suggests.
"You can also use a gentle, dry microfiber cloth to rub down the curtains to release dust," Nelson continues. "If you have a handheld vacuum or upholstery nozzle, use the lowest level of suction to gently run the nozzle down the fabric from top to bottom."