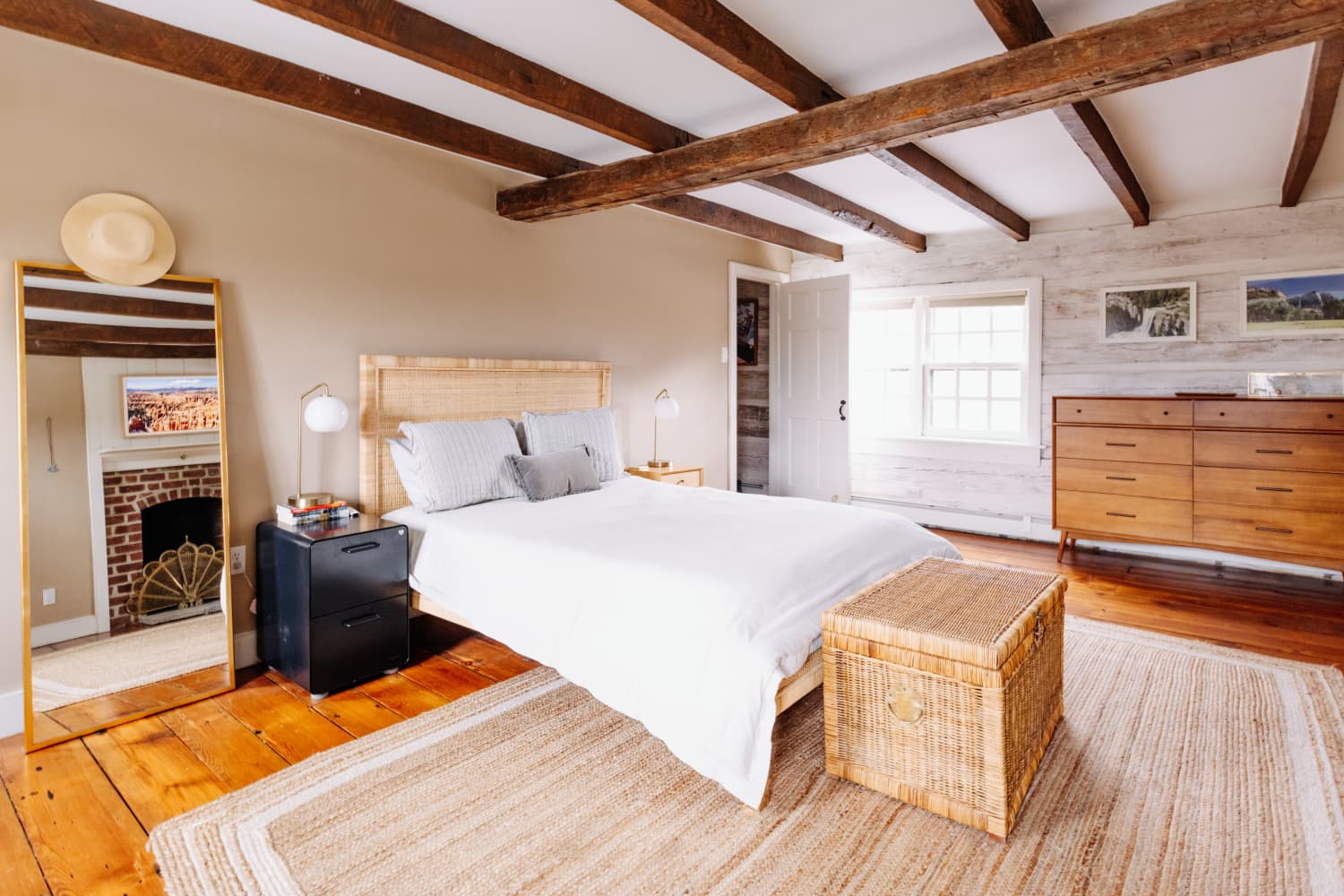 We independently select these products—if you buy from one of our links, we may earn a commission. All prices were accurate at the time of publishing.
It doesn't matter if I'm working with linen, percale, or a silky-smooth sateen, one thing's for sure: I almost always wake up to find the upper quadrant of my fitted sheet completely off my bed, leaving my mattress corner naked. I initially thought it was a distinctly "me" problem — maybe I unknowingly toss and turn so much that I rip off my sheets in the process — but one of my friends said she was having the same problem."We're sleeping on the plastic mattress cover half of the time, which is so sad and uncomfortable," she texted. At my bachelorette party a few weeks later, yet another friend of mine said she, too, faced the same issue.
It seems like squirmy sleeper syndrome is more common than I thought, but the more I considered it — and lamented with my friends — I realized that tossing and turning might not actually be the culprit to my bedding conundrum. If you have a set of sheets you really love, and wash them multiple times a month, the elastic that's meant to hug your mattress will loosen up over time. Eventually, your once-snug fitted sheet will inevitably become baggy and fly off your mattress corner with the slightest movement.
Luckily, I now no longer have to spend every morning readjusting my fitted sheet after one of my friends recommended the Gorilla Grip Bed Sheet Straps — and they've changed everything.
You know how suspenders are designed to hoist up your pants' waistband so you don't commit a major fashion faux pas? Well, the Gorilla Grip Bed Sheet Straps do the same … only for your bed. Each order comes with four suspenders, so you can take care of all your fitted sheet's corners in one fell swoop. And, just like your average suspenders, each of Gorilla Grip's quartet boasts three elastic bands and clips.
Simply attach each clip to the corners and adjacent sides of your fitted sheet, then secure the suspender-clad layer on your mattress. The elastic bands have just the right amount of stretch to pull your fitted sheet down and keep it that way all night long.
At $10 a box, the Gorilla Grip Bed Sheet Straps seem like such a simple, cost-effective solution for my nightly nuisance that I worried they were too good to be true. I immediately added a set to my cart and used them on my favorite-yet-fickle percale sheets. The moment I woke up the next day, I noticed something incredible: My fitted sheets stayed put overnight. I even had the same good luck the next night. And the next night. And, well, you get the picture. These even worked on the notoriously loose fitted sheets from my go-to linen bedding. Honestly, I'm shocked I didn't hear about this game-changing Amazon find sooner.
With over 1,500 positive reviews, a 4.4/5 overall rating, and an "Amazon's Choice pick," it's safe to say I'm not the only person totally sold on the Gorilla Grip Bed Sheet Straps. "I have an adjustable bed and before using these, my sheets would constantly slip off on the corners," one shopper commented. "These totally solved that problem: My sheets stay put now no matter how much I raise the head or foot of my bed." Another added, "I haven't needed to fix my bed in three days."
The only drawback is that using these straps does come with a bit of a learning curve. It seems that most people have attached these suspenders once their fitted sheet was already on their mattress, which requires some heavy lifting. However, I find it's much easier to attach them to your fitted sheet before this layer goes on your mattress. That said, everyone has their preferences, and once you've found yours, it's sweet, squirm-free dreams from here on out!